What is Structured Cabling?
What is Structured Cabling?
Structured Cabling is a broad term for the linking of network devices in a system that consists of cabling and associated hardware, forming a comprehensive telecommunications infrastructure.
According to the Fiber Optic Association, "structured cabling is the standardized architecture and components for communications cabling specified by the EIA/TIA TR42 committee and used as a voluntary standard by manufacturers to ensure interoperability."
If well designed and installed by professionals, it will provide an infrastructure that ensures predictable performance as well as the ability to accommodate Moves, Additions and Changes (MAC) flexibly.
WHAT IS IT USED FOR?
Structured Cabling is a data transmission system that supports the transmission of data through a computer network, multiple voices, video, telephone services and other management systems such as security access and energy systems. Network Cabling is not device-dependent, so it serves a wide range of uses.
Every structured cabling system is unique to the company or organization. This is due to a few factors:
Architectural Structure of the building that houses the cabling system
Type of cable and connection products
Function of cabling installation
Type of equipment the cabling installation supports
Configuration of the current system
Customer Requirements
Manufacturer Warranties
While every structured cabling setup is unique and different for various purposes, there is a standardised method to complete and maintain cabling installations.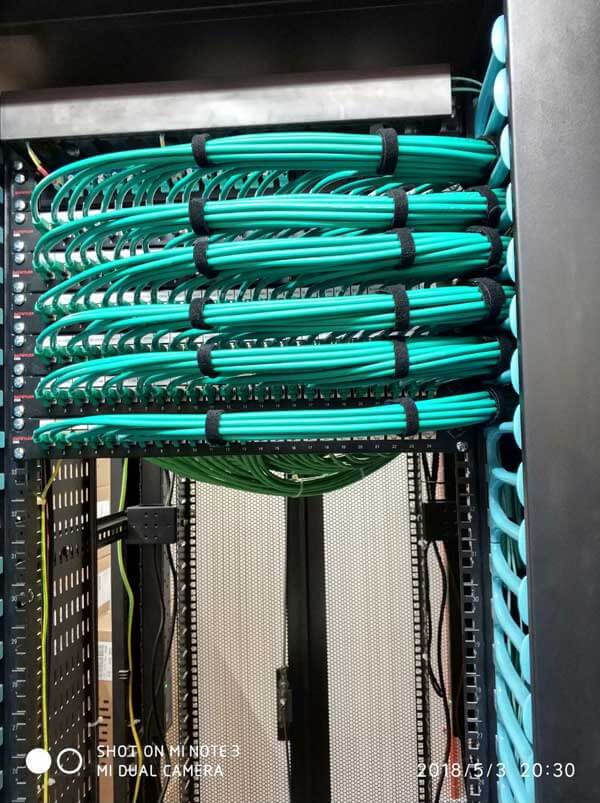 WHAT ARE THE SIX SUBSYSTEMS OF A STRUCTURED CABLING SYSTEM
There are the main components of building a structured cabling system, and it consists of six subsystems:
1. ENTRANCE FACILITY
This contains cables, network demarcation point(s) connecting hardware, protection devices and other equipment connecting to the access provider (AP) or private network cabling. This  includes connections between the outside plant and the cabling inside the building.
2. EQUIPMENT ROOM
This houses the centralised space for telecommunication equipment which is environmentally controlled, which is the house equipment and wiring consolidation points. This serves users inside the building or campus.
3. TELECOMMUNICATIONS ROOM OR ENCLOSURE
This is an enclosed area designed  to house telecommunications equipment, cable terminations, cross-connects and distribution frames. In general, each building will have at least one telecommunications room or enclosure. The size of the room is dependent on the size of the service area.
4. BACKBONE CABLING
Also known as vertical cabling or wiring, it offers interconnection between entrance facilities, telecommunication rooms and equipment rooms. This is commonly done from floor to floor or between buildings. Equipment is to be connected by cables not longer than 30m. The cables can be fibre optic, coaxial, unshielded twisted-pair (UTP), and shielded twisted-pair (STP).
5. HORIZONTAL CABLING
Horizontal cabling is the cabling between telecommunications information outlet in the work area and horizontal cross-connect in the telecommunication room(TR) or telecommunications enclosure(TE). This contains the telecommunications outlet, optional consolidation points, horizontal cable, mechanical terminations, patch cords or jumpers located in the TR or TE. It will usually run above the ceiling or below the floor. Ethernet or fibre optic cables are usually used for horizontal cabling.
6. WORK AREA
Components in the Work Area(WA) extend from the telecommunications outlet/connector end of the horizontal cabling system to the WA equipment, connecting to end-user equipment. WA components are also known as cable components, including patch cables, communication outlets and station equipment.
WHAT ARE THE BENEFITS?
The benefits of using structured network cabling are:
Cost-Effective
Reduces the risk of downtime since it is organised, keeping errors and issues easy to identify
Time-Saving, as Structural Cabling is flexible to accommodate Moves, Additions and Changes (MAC) quickly.
Consistency of design and installation
Uniform documentation, easy for people who are new to understand how it runs.
Supplies higher bandwidth
All-in-one communication system that is streamlined for easy management
Reduce cost by unified all cable support systems into one
Structured Cabling is the recommended system for companies and organizations looking for an organised and standardized system for their cabling needs. It is important to choose the right kind of cabling system that fits the requirement of your project best, as it can have an impact on its functionality and cost of ownership. There are network cabling companies that provide structured cabling services that can serve your needs, however it is important to look for companies with the track records and industry certifications so as you can tap on their expertise and experience immediately for your project.